Action and Relaxation - 6 day package tour
- EI113
Laugavegur 5 day hike - The Golden Circle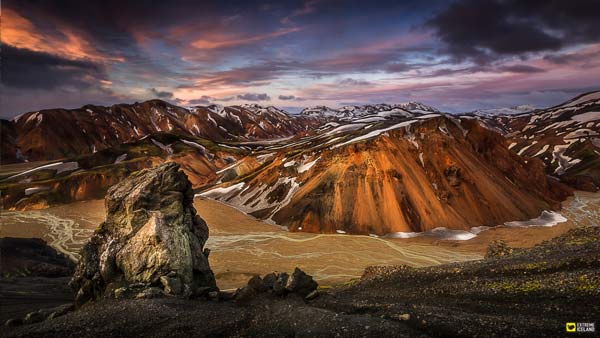 In this package tour of action and relaxation you will discover the most popular hiking route in Iceland, Laugavegur & Fimmvörðuháls. 5 days of walking in the highlands experiencing magical landscapes and unexplained atmosphere. On day 6 we do the Golden Circle, something no one can skip when in Iceland. The perfect combination.
Distance: 72 kilometres (45 miles), maximum ascent 600 metres (1900 feet)
Map: Click here
Included: Hotel pick up & drop off in Reykjavik each day, guided tours for three days, all relevant equipment.
Bring with you: Warm clothes, sturdy shoes.
For further information:
info@extremeiceland.is
*Note that for all our combined tours it is necessary to arrive in Iceland at least one day before tour departure as it is always early in the morning. We recommend booking airport transfer here. Keep in mind that each day trip ends in Reykjavík again, so you go on two separate tours, with two separate guides.
Day 1 - 5: Laugavegur and Fimmvorduhals
We will take 5 days walking this popular route starting in Landmannalaugar and finishing just by Seljalandsfoss. All together it is 70 kilometres and people need to be in moderate shape in order to enjoy this trip. Walking 17,5 km average per day except for day 1 which we'll spend differently. This is an adventure you can't miss, if you're into hiking.
Complete Program for Day 1
Landmannalaugar We will depart from Reykjavik after pick up around 9.30. Getting to Landmannalaugar, which is the starting point of the hike, takes a bit of driving (ca. 3 hours). We will give us time to stop on the way, looking at waterfalls, craters and recent lava fields. Arriving in Landmannalaugar at midday and enjoying the area which is known for its natural geothermal hot springs and stunning landscapes, we will take short hikes exploring the area without starting the actual hike. Hrafntinnusker - Reykjafjöll - Álftavatn We'll hike for about 10 – 12 hours. Starting from Landmannalaugar and walking towards Hrafntinnusker, which has indescribable views. After lunch we keep on forward, hiking along Reykjafjöll mountains to Jökultungur area, passing hot spring areas, receding glaciers and maybe an ice cave. We'll spend the night next to Álftavatn water. Eyjafjallajokull On day 3 we'll hike for 6 – 7 hours. Crossing the volcano Stórasúla and into the desert of Mælifellssandur we get a view of the famous Eyjafjallajökull glacier and Myrdalsjokull glacier. Thorsmork Day 4 is another 6- 7 hour hike. We start from the hut Emstrur, cross a cool river and pass beautiful basalt columns and deep canyons. We head south and pass the mountain Einhyrningur. In the afternoon we arrive in Thorsmork, a mountain ridge, named after the Norse god Thor. We'll sleep in Langidalur valley, where the oldest hut in Thorsmork is located. Fimmvorduhals The last day of our hike will take about 8 – 9 hours and on that day we will tackle the magnificent Fimmvörðuháls. We begin with wading the river Krossá, then heading upwards Strákagil gorge. We need to go carefully over Kattarhryggir (Cat's spine) a very narrow precipice, and then we head towards the young craters Magni and Modi, formed in Eyjafjallajokul's euption 2010.
Day 6: The Golden Circle
After 5 day walking tour you will arrive back to Reykjavik where you can relax in the city for the night. The morning after, our guide will take you to our version of the Golden Circle, which is the famous Golden Circle plus more.
Complete Program for Day 3
The day starts with our type of the Golden Circle. Pick up is from 9 - 9.30 and we start with a half an hour drive to Hellisheidavirkjun where there is a modern Geothermal exhibition. On our way from there to Gullfoss and Geysir we make two stops. First at Kerið, which is a 3000 year old volcanic crater. It is a part of a group of volcanic hills called Tjarnarhólar. Then we do a little warm up and visit Faxi, a very nice waterfall close by. Gullfoss and Geysir Gullfoss and Geysir is next up, Gullfoss being one of the most popular and powerful waterfall in Iceland. The Geysir hot spring area is quite impressive and you will be able to see Strokkur geyser erupt. Laugarvatn and Thingvellir To close the golden circle we head to Thingvellir, making a stop at a small town called Laugarvatn. The town is built on a geothermal area and has an interesting history as well. Arriving at Thingvellir you won't be disappointed. Thingvellir has a lot of beautiful geology sights as well as holding a lot of history.
Map - click to enlarge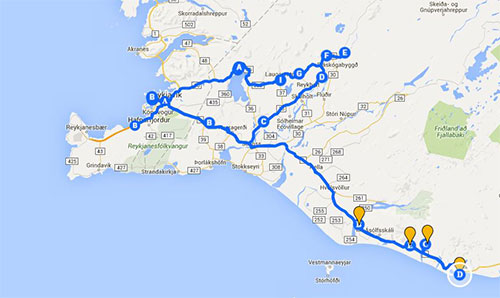 Any questions? Contact us...