All Iceland has to offer- 6 day package tour
- EI114
South Coast - The Golden Circle - Snaefellsnes - Landmannalaugar - Volcanic Veins & Whale watching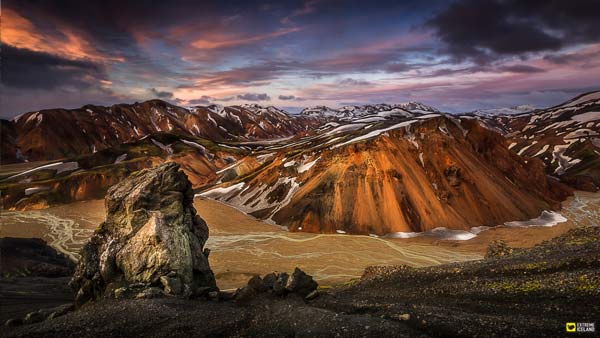 See it all! This package is designed for you to discover all of Iceland's diversity. From caving deep inside lava caves to glacier hiking on one of the biggest glaciers in Europe this 6 day trip will not be disappointing.
Available: Starts: Every Sunday, Tuesday & Thursday
Map: Click here
Included: Hotel pick up & drop off in Reykjavik each day, guided tours for three days, all relevant equipment.
Bring with you: Warm clothes, sturdy shoes.
For further information:
info@extremeiceland.is
*Note that for all our combined tours it is necessary to arrive in Iceland at least one day before tour departure as it is always early in the morning. We recommend booking airport transfer here. Keep in mind that each trip ends in Reykjavík again, so you go on five separate tours, with five separate guides.
Day 1 and 2: South Coast with Glacier Hike
It starts with a 2 day tour around the South Coast visiting all the main highlights like Reynisfjara (the Black Sand Beach), Jokulsarlon glacier Lagoon and the beautiful waterfalls, Seljalandsfoss and Skogafoss. Sleeping in a country hotel we wake up on the second day and put on some crampons as we are about to go glacier hiking.
Complete Program for Day 1
South Coast with Glacier Hike Pick up is from 9.00 – 9.30 in Reykjavik and from there we start our journey along the savory south shore. Seljalandsfoss waterfall will be our first stop situated between Selfoss and Skógafoss (how many s's?). It's really close to Eyjafjallajokull as well. Skogafoss and Vík The next sight we visit is Skogafoss waterfall, another pearl at the area. Continuing we visit Vík, a small village where there is a beautiful black sand beach and basalt columns called Reynisdrangar sea stacks. Jokulsarlon glacier Before we arrive at Jokulsarlon Glacier Lagoon we'll stop for a short time in Skaftafell Nature Reserve. The glacier outlets give the area a shadowy scenery. Continuing to Jokulsarlon, one of Iceland's must see spots, you get the chance to enjoy the area. After that it's time we head to our accommodation for dinner. We will stay ar the country Hotel Gerði close to Jokulsarlon. The rooms all have bathroom and there is Wifi available in the dining room. The restaurant uses mainly local products on the menu. Day 2 - Glacier Hike Waking up we start by having breakfast, which is included in the price. Then we visit Jokulsarlon glacier lagoon again and now you get the chance to buy a boat ride where you sail amongst the icebergs on the lagoon. Next up is the glacier hike! The view is amazing on this one hour glacier hike and the feeling walking on that compressed, often transparent ice, is extreme and hard to describe. Arrival time is from this tour is somewhere between 19 and 21.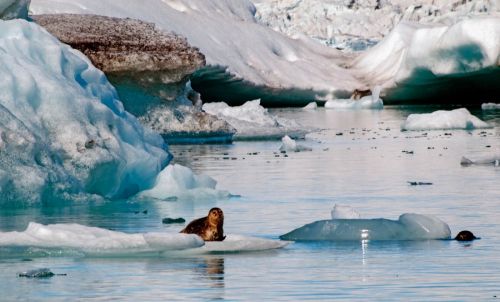 Day 3: Snaefellsnes peninsula with caving
The day after we head west to the Snaefellsnes peninsula for a day trip. This place is something else. It stores a lot of icons, such as the church Búðir, the famous Kirkjufell and of course Vatnshellir, the lava cave we'll dive into.
Complete Program for Day 3
We drive from Reykjavik after pick up to Snaefellsnes peninsula. Our first stop will be at a black stone beach near Ytri Tunga well known for a big seal colony. We then visit idyllic Arnarstapi village, a remarkable area where we will take a walk and stop for lunch break. Next up is the caving part of the day. We go down beneath the surface and enter another world where strange lava formations take you to new places. The caving is easy so it should be suitable for everyone. Djúpalónssandur, a black sand beach that offers stark views out to the sea and fascinating histories of shipwrecks and adventure will be our stop after the caving. We'll visit Grundafjorður fishing village where Kirkjufell, the famous mountain is located and lava field named Berserkjahraun. With few stops on the way, like the Natural Heritage Site of Gerðuberg, we head back to Reykjavik.
Day 4: Golden Circle
Have you heard of the Golden Circle? It's kind of a must when in Iceland. And that's why one of the ingredients to this pack is Gullfoss, Geysir and Thingvellir National Park which together make up the Golden Circle. Along with that we'll stop at other interesting places like Efstidalur, a family farm, Faxi waterfall, the crater Kerið and Geothermal Power plant exhibition, Hellisheiðavirkjun.
Complete Program for Day 4
Hellisheidavirkjun Geothermal Exhibion After collection in Reykjavik we drive south and start our day at Hellisheidavirkjun Exhibition at the Geothermal power plant. It's the third largest geothermal power station in the world. The exhibition is fun and modern, where they show geological, technical and historical facts in an informative and entertaining way. Kerið and Faxi Second stop is the volcanic crater Kerið, a collapsed magma chamber with a little lake in it, beautiful to see. It has also served as a concert venue. On our way to the Golden Circle we do a little warm up visiting Faxi waterfall. It's located at the Tungufljot river and is very pretty. Gullfoss and Geysir Arriving at Gullfoss, one of this day's highlights, we'll be inspired by it's power getting so close to it, we feel the mist of the waterfall. We'll have lunch and go to Geysir hot spring area. There are many, many hot springs, including Geysir, the "parent" of all geysers and Strokkur who erupts every 5 – 10 minutes. Efstidalur and Laugarvatn We'll make two stops before we go to the National Park Thingvellir. First we'll get to taste homemade ice cream from the family farm Efstidalur and than we visit Laugarvatn Lake, a small village built on geothermal springs. Thingvellir Thingvellir is very important for Icelanders, both historically and geologically. Here Althingi (the Icelandic parliament) was formed in 930 AD making it the oldest parliamentary site in the world. The Eurasian and American tectonic plates meet here as well. Thingvellir have been designated UNESCO World Heritage Sites. Returning back to the Reykjavik accommodation you will be there in about 8 hours.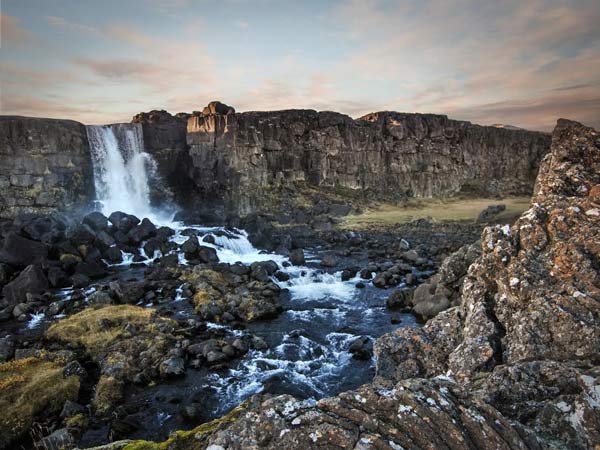 Day 5: Landmannalaugar
If you're looking for pure and untouched nature, Landmannalaugar is the place to visit. Located in the Highlands of Iceland, it is difficult to access by regular car. That's why we travel in a superjeep which gives you the real rough experience. The landscape is stunning and the place contains a lot of geothermal hot springs and you will actually get a chance to bathe in one of them.
Complete Program for Day 5
We leave Reykjavik in a superjeep and head to the highlands. On our way we stop at Hjálparfoss waterfall (e. Helping Falls) in Þjórsárdal valley. Entering the highlands we will be surrounded by wilderness, crossing rivers and driving on rough gravel. We make a couple of stops, for instance at Crater Lake Ljótipollur, formed in 1477 and now filled with a cobalt-blue deep lake. We also stop at lake Frostastaðavatn, before reaching Landmannalaugar. Arriving at Landmannalaugar we will have lunch, before we take a short hike, exploring the neighbourhood. After that, there's a relaxing time in the natural thermal pool. We'll then drive the Dómadalur route, through lava fields and surrounded by mountains. One of the highlights is Þjófafoss, e. "Waterfall of Thieves". Before heading back to Reykjavik we stop at the famous volcano Hekla and take a walk around that area. We than turn back home.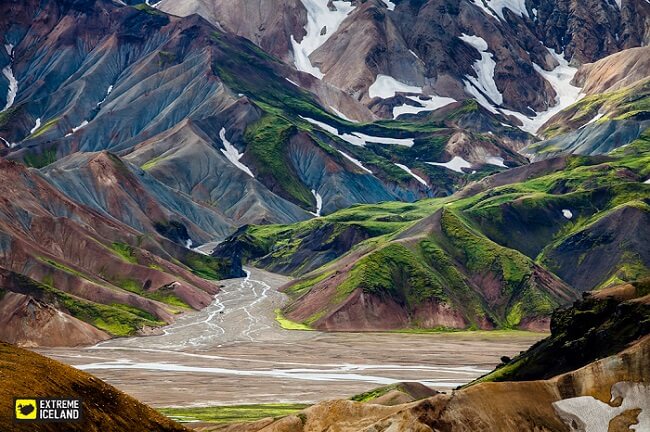 Day 6: Volcanic Veins and Whale watching
The icing on the cake is our popular Volcanic Veins and Whale watching tour. It starts with a trip to the Reykjanes peninsula where we go caving down in Leiðarendi (translates into The End of the Road), a large lava tube short drive from Reykjavik. Afterwards we return to Reykjavik's harbour where we go sailing, trying our luck on seeing some whales.
Complete Program for Day 6
We leave Reykjavik in a superjeep and head to the highlands. On our way we stop at Hjálparfoss waterfall (e. Helping Falls) in Þjórsárdal valley. Entering the highlands we will be surrounded by wilderness, crossing rivers and driving on rough gravel. We make a couple of stops, for instance at Crater Lake Ljótipollur, formed in 1477 and now filled with a cobalt-blue deep lake. We also stop at lake Frostastaðavatn, before reaching Landmannalaugar. On the last day of this package we head from Reykjavik to Reykjanes peninsula. It's only a short drive and we will be at Leiðarendi cave probably 20 minutes from pick up which is from 9 – 9.30. To enter we need to go through narrow cave entrance but you will see it reveals an open and wide, extraordinary scenery of lava formations. We will be in the cave from 1,5 to 2 hours discovering a lot of different forms and colours. After caving we return back to Reykjavik, now to the harbour located downtown. You will get time for lunch before going on board the whale watching boat. There's a good chance spotting whales, the most commin ones are minke whales, harbour porpoises, white-beaked dolphins and sometimes the majestic humpback whales. The guides use their experience to help you to know where to look to locate the wildlife, describe what is seen and use their scientific knowledge to answer your questions. The crew will make sure that any birders on board will not miss the birds we encounter!