Short and Sweet - 3 day package tour
- EI110
South Coast - Golden Circle - Landmannalaugar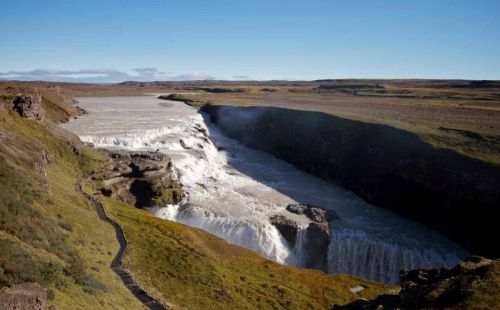 This three day combo tour includes the absolute best of what Iceland has to offer. The Golden Circle, Landmannalaugar nature reserve (where you can bathe in a geothermal pool) and on the last day we will visit the south coast. There is also an optional glacier hike for the adventurous.
Duration: 3 days
~8-12 hours per day
Pick up on first day: 09:00-09:30
Available:Mid June - September
Sun, Tue, Thu
Drop off on last day: ~22:00
Map: Click here
Included: Hotel pick up & drop off in Reykjavik each day, guided tours for three days, all relevant equipment.
Bring with you: Warm clothes, sturdy shoes.
For further information:
info@extremeiceland.is
This three day combo tour includes the absolute best of what Iceland has to offer, including the Golden Circle tour (Iceland's three most popular natural attractions: Gullfoss, Geysir and Thingvellir National Park).
You will also experience the amazing landscapes of Landmannalaugar in one of our super jeeps, which provides a deluxe travelling experience and a personal atmosphere. And finally, you will take a sightseeing tour of the south coast, which offers some of the most spectacular views you can find in Iceland. Or if you're feeling extra adventurous we offer you an opportunity to experience a glacier hike on Solheimajokull, the choice is yours. Keep in mind that each day trip ends in Reykjavík again, so you go on three separate tours, with three separate guides.
South Iceland
Iceland's south coast is home to a number of amazing natural wonders and charming small towns. During this combo tour you will be able to explore some of the lava fields, mountains, waterfalls and glaciers on our way to the southernmost part of the country.
Day 1: South Coast by Minibus - Sightseeing Day Tour
This day trip shows you a big slice of what south Iceland is all about. We will take a scenic tour of the south coast, stopping at some of the most beautiful places it has to offer. We will take you to waterfalls, volcanoes, black sand beaches and many other wonders of nature. We also offer you a slightly different tour, where you embark up onto Sólheimajökull glacier and take a walk on the glacier.
Note: The whole group must book the same option if they want to share the same bus.
Complete Program for Day 1
We depart from Reykjavík and make our way east over Hellisheidi mountain pass. We will encounter many great photo opportunities on our way, going through Iceland's largest agricultural area. When we approach Eyjafjöll (Island Mountains), we have a great view of the Westman Islands, that lie off the south coast in the distance. Close by is the infamous Eyjafjallajokull, which erupted in 2010. We will also take you to a couple of amazing waterfalls, Seljalandsfoss and Skogafoss, which cascade 60m down the sides of Eyjafjoll. Seljalandsfoss and Skogafoss Seljalandsfoss is unique in that you can walk behind it, getting an inside out view of the magnificent waterfall. It falls in a majestic arc from the cliff with immense power, forming a deep pool at the bottom, right at your feet. Continuing east, the next stop is the picturesque waterfall Skogafoss. We offer you an opportunity to take a hike to the top, providing you with an incredible view. Skogafoss is one of the largest in Iceland, and due to the amount of spray, a rainbow can often be seen on sunny days. The deep black shores of Reynisfjara After viewing the lush green surroundings of the waterfalls, we contrast it with the dramatic black sand beach of Reynisfjara. The waves have forged the shore and basalt cliffs over time, forming many of the famous natural gems in the area. The Reynisdrangar sea stacks are just off the shore, flanked by the amazing 120m (400ft) high Dyrholaey promontory, which is the southernmost tip of Iceland. Vik The small town of Vik lies a stonesthrow away from Reynisfjara. There we will stop at the local wool and gift shop. Vik is the southernmost village of Iceland, with a population of about 300. This quaint little village is surrounded by beautiful beaches, cliffs and mountains. Solheimajokull glacier On the way back to Reykjavík, we will stop at Solheimajokull, which is an outlet glacier from Myrdalsjokull, the fourth largest glacier in Iceland. There we take a small detour to the edge of the glacier, where you get the opportunity to take a short hike and experience the glacier's unique landscape. After the hike we continue our trip back to Reykjavik. South Iceland With Glacier Hike We also offer a variant of this tour which includes a glacier hike on Solheimajokull, for those who are feeling extra adventurous. The hike takes place after visiting Seljalandsfoss. We gear you up with crampons and brief you on safety while hiking on the glacier. The hike takes about one hour and is relatively easy, if you are comfortable walking on uneven surfaces. Children over the age of 10 are allowed on the glacier hike. The glacier hiking tour has all the same stops except it does not include Vík.
Day 2: Golden Circle Compete - Classic Minibus Tour
Pick up: 09:00-09:30 and 13:00*
*09:00 pick up available all year, 13:00 pick up available from April 1st - Sept 15th
This classic tour will take you to three of Iceland's most popular attractions: Gullfoss, Geysir and Thingvellir National Park. These destinations make up what the Icelanders have long referred to as the golden circle. The tour will also take you to a number of interesting places, including the Geothermal exhibition at Hellisheidi Power Plant, the Faxi waterfall and Kerid, a magnificent volcanic crater. A lot of places to explore, but they are all relatively close and we make sure you have some time to enjoy them all!
Complete Program for Day 2
The minibus departs from Reykjavík, heading eastwards out of the city, passing through vast lava fields. Hellisheidavirkjun The first stop will be the Geothermal Exhibition at Hellisheidi power plant. The plant recently opened a interactive exhibition which focuses on the development of geothermal energy in Iceland. The exhibition highlights geology, technology and history through an accessible, informative and entertaining manner. Crater Kerid The tour will then continue at the Kerid crater, which is a volcanic crater lake that formed about 3,000 years ago. Geologists first believed Kerid was formed by a huge explosion in the volcano, but recent research now tells us it was probably formed by a cone volcano that erupted and emptied its magma reserves, collapsing the cone into the magma chamber and creating the crater lake. Faxi Waterfall After stopping at Kerid the bus will make a stop at the beautiful Faxi waterfall, which lies about 12km from Gullfoss and Geysir. Faxi lies in the Tungufljot river and is a part of the golden circle trail. Gullfoss and Geysir The highlight of the tour for most, these two places capture the essence of Icelandic nature. Gullfoss is definitely the most famous waterfall in Iceland, and is a part of the river Hvítá. Gullfoss possesses immense power, which you can experience first hand by walking up to it (but stay safe and don't go too close!). When you are finished exploring Gullfoss it should be lunch time, so we will stop at a local place to sit down and have a bite. After lunch, we will head over to the geothermal valley of Haukadalur, which is home to Geysir, Iceland's most famous geyser. We will also take a look at Strokkur geyser, which spouts hot water to a height of 60-100 feet every five minutes or so. Efstidalur – Icelandic Farm After departing the Geysir area, we head on towards Efstidalur, which is a family farm located close to lake Laugarvatn. The farm operates a clever little ice cream shop where you can enjoy different flavoured ice cream, produced from the farm cows' milk. We don't think you can get any fresher ice cream than that! Lake Laugarvatn A small town with a population of about 200 people, Laugarvatn takes its name from the lake it resides by. The lake itself contains geothermal springs under its surface. Vígdalaug is one of the hot springs that is connected to the lake, and was used as a baptism pool after being consecrated by Norwegian priests back when Iceland was christianized in approximately 1000 AD. Thingvellir National Park & Öxarárfoss Waterfall We complete the golden circle by visiting the National Park Thingvellir, which holds great natural and historical importance in Iceland and has many remarkable geological features. The American and Eurasian tectonic plates meet here, and it is also where Alþingi, the Icelandic parliament, was formed in 930 AD, making it the oldest parliamentary site in the world. We will also see Öxarárfoss waterfall, which has been designated a UNESCO world heritage site, along with Thingvellir.
Day 3: Landmannalaugar Super Jeep Tour
The highlands of Landmannalaugar is one example of how mind-blowing the landscapes of Iceland can get. And to experience it by super jeep has its advantages, providing a very comfortable and luxurious trip with its spacious jeeps and a very private, relaxed atmosphere. This tour is what super jeeps were made for, and no wonder it is one of our top sellers.
Complete Program for Day 3
We start the day by departing from Reykjavík and head on towards Þjórsárdalur Valley, where we make a stop at Hjálparfoss, meaning "Helping falls". It is believed the name comes from historical times, when travellers used to make stops in this lush environment to let themselves and their horses recover before their journey continued. After this stop we leave the green lowlands of the south, and we head up to the highlands, where more amazing landscapes of the wilderness await. When we arrive up on the highlands, the super jeeps will start proving their worth. We will cross rivers and drive on coarse gravel roads, which will lead us to Landmannalaugar. The landscapes we will encounter will most definitely make for a trip to remember. We will stop at Ljótipollur, a crater lake formed in an eruption in 1477, now filled with cobalt-blue water. We will also make a stop at Lake Frostastaðavatn before we finally reach our destination. The Landmannalaugar area is a combination of extremely diverse geological elements. There you can find extensive lava fields and the multicolored rhyolite mountains which span a good part of the color spectrum, fading from pink to brown and green, intermixed with yellow, blue, black and even purple in between. At Landmannalaugar you have freedom to do various activities. You could start by taking a quick snack break, before coming along on a short hike with the group. Or if you feel like it you could even jump straight in the historical geothermal pool for a relaxing soak. You could also just explore the territory on your own before we make our way back to civilization. Just remember to bring a swimsuit if you want to take a dip in the pool. On the way back we will take the Dómadalur route, which takes us through lava fields and beautiful mountains, offering a truly unique scenery. The highlight of this part of the tour is without a doubt Þjófafoss waterfall (meaning Waterfall of the thieves). In the old days, vikings would drown those who were accused of thievery there, binding their hands and feet and throwing them down into the waterfall from the top of a cliff. We will also stop by the volcano Hekla, and take a short walk in the lava fields. Through the ages, Hekla was nicknamed "The Gateway to Hell". The nickname is not surprising given the fact that Hekla is one of Iceland's most active volcanoes, last erupting in 2000. On our way back to Reykjavík you can unwind a bit and enjoy the evening sun.
Map - click to enlarge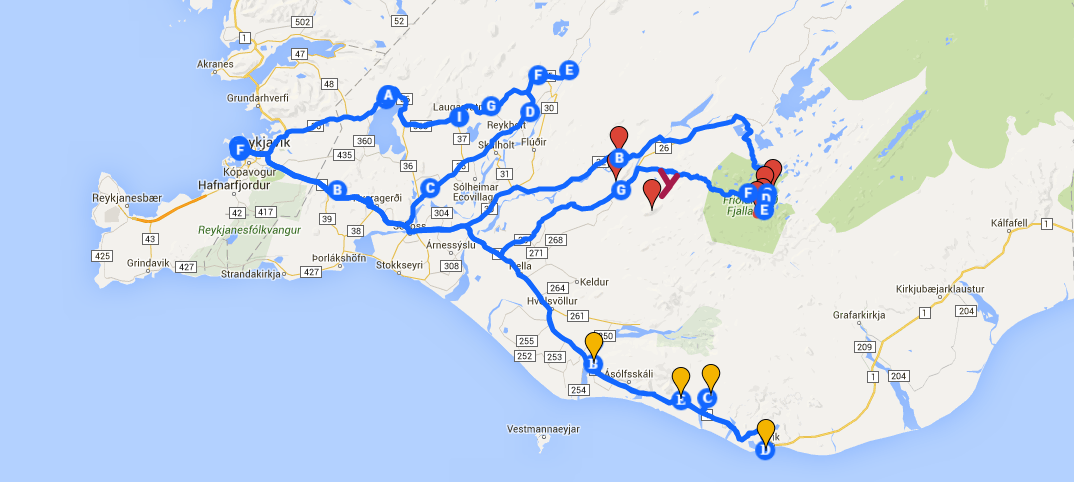 Any questions? Contact us...