Ultimate Hiking - 6 day package tour
- EI115
Hike in the magical Westfjords, see Glymur waterfall and hike to the top of Iceland's freshest volcano at Fimmvörðuháls.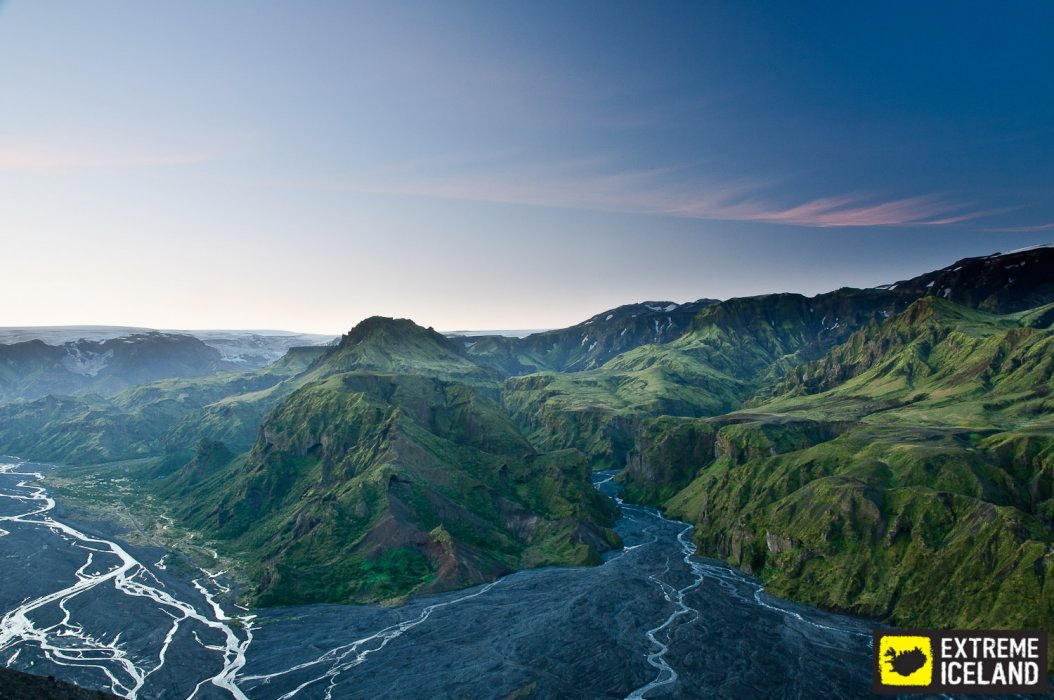 We start this amazing combo with a 3 day excursion to the Westfjords where the focus is on hiking and enjoying the beautiful nature surrounding us. We'll take hikes every day, relax in between in a nature thermal pool with a view over the Arctic ocean and visit a witchcraft museum. After day 3 we return to the city and stay for the night at a hotel.
The next day we'll head up to Glymur, one of the highest waterfalls in Iceland. We start the walk going through a cave and then we continue for about 5 - 6 hours hike. To see the tour in details click here.
After Strandir and Glymur we head in a different direction to the south where the famous Eyjafjallajokull eruption took place.
*Note that for all our combined tours it is necessary to arrive in Iceland at least one day before tour departure as it is always early in the morning. We recommend booking airport transfer here.
Duration: 6 days
~8-12 hours per day
Pick up on first day: 09:00-09:30
Drop off on last day: ~20:00
Available: mid june-mid september
Monday-Thursday or Saturday-Tuesday
Map: Click here
Included: Hotel pick up & drop off in Reykjavik each day, guided tours for six days, all relevant equipment.
Bring with you: Warm clothes, sturdy shoes.
For further information:
info@extremeiceland.is
Day 1-3: Hiking in Strandir
This is a three day hiking tour, and a chance for you to be one with nature in the west fjords of Iceland. The hike includes bathes in geothermal pools and amazing scenery of the ocean and surrounding mountains.
The Westfjords offer serene beauty that catches your eyes with its diverse nature and wildlife. On your hike you can expect to encounter seals, horses, sheep and birds, along with the friendly inhabitants of the small villages and farms that you will pass along the way.
Complete Program for Day 1-3
The hikes vary in length, and on them you will follow in the footsteps of farmers who traversed the heaths to get provisions or medical assistance for their families. There are also deserted houses on the way, which are always interesting to explore. The Krossneslaug pool is also a great place to stop and unwind. The local shop is open for two hours a day, and there is also a local restaurant there, but you can even try your luck by fishing for supper yourself. Accomodation is at a small hotel that is located by the harbour. We begin by departing from Reykjavik and head towards the western part of Iceland. After going through the Hvalfjardargong tunnel we drive through the town of Borgarnes. We pass the mountain Baula, with its distinguished features and reddish colour, and drive a bit further until we reach the small village Búðardalur and stop for refreshments. After lunch we then continue our trip to the Westfjords. The route there offers many great views and you often get a good view of the countless islands of Breidafjordur bay. We stop by Borgarhólmur and take a short hike. After that we make our way towards the village of Hólmavík, which rests by a small fjord. you can keep an eye out for eagles that are known to nest in the hills there. We are now in the Strandir area, the part of Iceland that for centuries was known for the number of people who had much knowledge of witchcraft! We make quick stops in a couple of almost uninhabited villages, where we can take a moment and focus on the stillness and calmness that defines the nature of the Westfjords. When we reach our destination of Norðurfjörður you can choose whether to go for a swim Krossneslaug, which is a cozy little geothermal pool , or to have dinner right away. Either way you can spend the night enjoying the evening sun reflect off the arctic ocean. The next day we will enjoy the unique scenery by taking a walk on the beach before cimbing into our minibus and visit a old herring factory that has stood unused since the early sixties. This is a memoir of how life in the westfjords has changed over the decades, when it used to be full of people, which were forced to move when the herring disappeared and there was much less work to be found. The third and last day at Strandir will begin by leaving Norðurfjörður and heading towards Bjarnarfjörður (Bear fjord) and take a short hike. We stop in the village at Hólmavík and have lunch, before taking a tour of the Museum of Icelandic Sorcery & Witchcraft From Hólmavík we follow the coastline all the way to Hrútafjörður, stopping at two places where boats sailed for America in the 19th century. We pass back through Búðardalur and continue towards the south. We make a stop at Rauðamelsheiði to stretch our legs a bit and enjoy the wilderness by taking a short hike. We also make stops at Straumfjörður, which is known for its rich birdlife, and Álftafjörður, where we visit the old churchyard which is slowly being eroded away by the ocean. We estimate to be back in Reykjavik at around 20:00.
Note: We keep the fourth day unscheduled, allowing you to recover a bit before the next day hikes to Glymur and Eyjafjallajokull.
Day 5: Glymur Waterfall
Glymur is located near Reykjavik, in Hvalfjörður fjord, and is one of the highest waterfalls in Iceland. The canyon in which it falls is the deepest in Iceland. This hike will test your fear of heights but is well worth it for the amazing scenery you will encounter.
Complete Program for Day 5
We pick you up at our hotel and drive through Reykjavík and into Hvalfjörður. This drive takes less than two hours. Hvalfjörður is one of Iceland's deepest fjords, and in WW2 it served as a depot and shelter for allied convoys that were headed east. After the tunnel opened in 1999, Hvalfjörður is now a detour, making it quiet and looking a bit deserted. We drive to a small cove at the bottom of the fjord and continue on a gravel road until we reach our destination in an isolated valley, where the hike starts. We walk through a planted forests up to the gorge of Botnsá river. To get to the gorge, we have to go through a small cave and pass the river by walking over a log. Truly a test of one's nerves and balance. Once the river has been crossed we follow a path that follows the rim of the canyon, leading us upwards towards a certain ledge. Standing on this ledge is the only way to see the whole waterfall, which is 198m (650 feet) high. This is a prime location to take photos, sit down and open the lunch box. After a quick breather, we head upwards and get closer to the waterfall. There we can sit down by the river that runs there, Botnsá. At the river we take off our hiking shoes and wade over the river, with supervision from our trusted guide of course. This isn't as daunting as it sounds though, the bottom of the river is made of smooth rock and the water is only about 25-30cm deep. Once across the river, we head back down the opposite side of the river, allowing us to get yet another breathtaking view of this natural wonder. We then head towards our minibus and drive back towards civilization.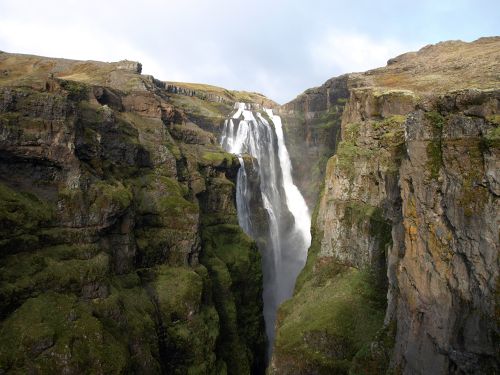 Day 6: Fimmvörðuháls volcano hike
On this day trip to Fimmvörðuháls we will visit the site of the 2010 eruption and hike to the top of the "brand new" volcano that formed there. You'll see the new craters Magni and Móði along with the lush valleys of Þórsmörk as a bonus.
Complete Program for Day 6
We pick you up at your hotel in Reykjavik in the morning in a super jeep and start the drive along the south coast towards Þórsmörk. We stop by the beautiful waterfall of Seljalandsfoss before continuing onwards on a gravel road towards Þórsmörk. We cross several unbridged rivers on the way, something the super jeeps can easily handle. We then arrive at the slopes of Eyjafjallajökull, leaving our car and start the journey. The path to the top winds through canyons, across a narrow ridge called Kattarhryggur (Cat's spine). On our way we'll also encounter several majestic gulleys and canyons. We then cross the aptly named Heljarkambur (Hell's Ridge) before hiking up the last hill to see the craters. From there the journey continues over fresh lava fields and a still hot volcano! The surface is warm, It's even hot enough to cook hot dogs on. But only 20cm below the rock is too hot to touch. After a stop by the two newly formed craters we head back down. The descent isn't any less striking than the way up, offering stunning views of Þórsmörk. We then drive back to Reykjavík, but stop for dinner on the way, ending this six day hiking adventure around Iceland.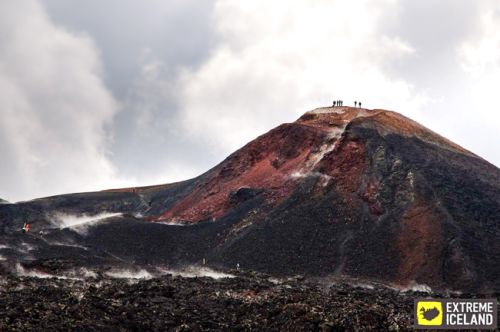 Map - Click to enlarge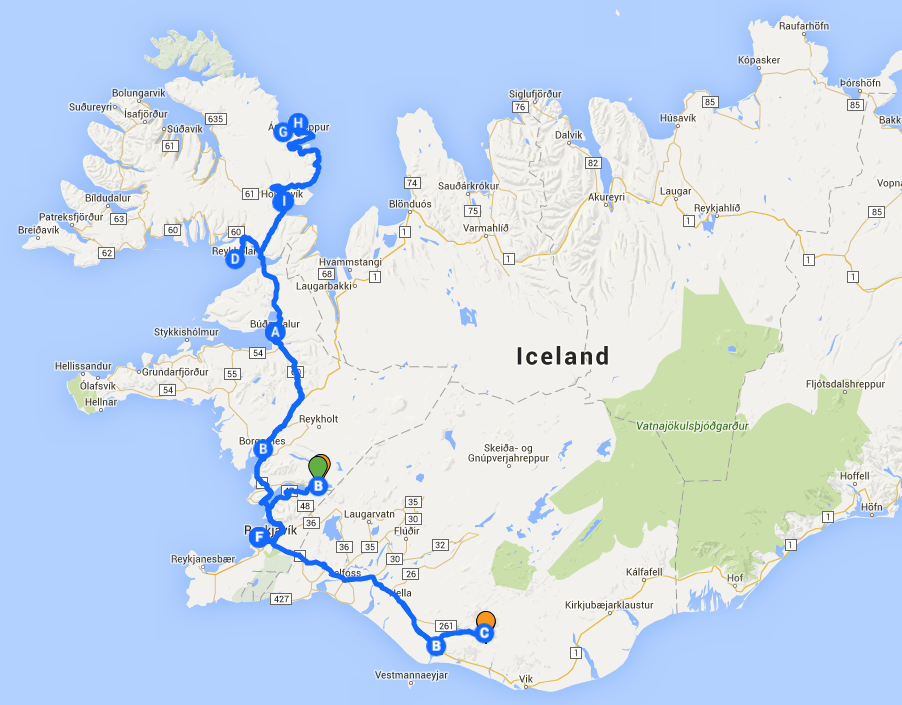 Any questions? Contact us...