Private tours in Iceland - Custom Tours
We design and operate private tours to locations all over Iceland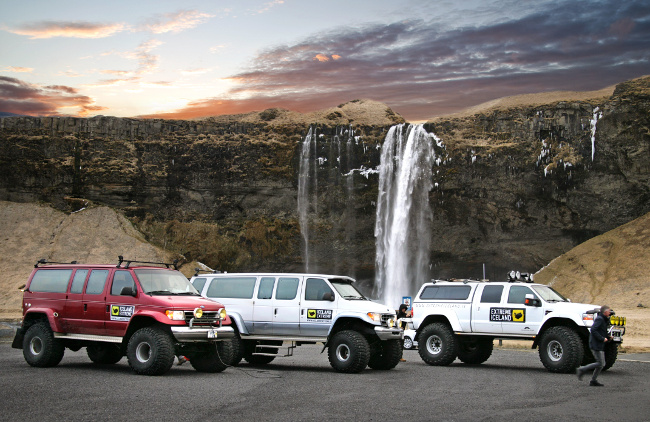 If you are searching for an outstanding discovery of what Iceland has to offer, a private tour might be the right kind of tour for you.
All our tours can be tailored just the way our clients wish. These quality tours are flexible and for example perfect for Northern Lights hunting.
Included: Personalised to your own wishes. We provide the expertise and organization. You just choose the type of accommodations if applicable, activities, eating requests and so forth.
Bring with you: Warm clothes, sturdy shoes.
For further information:
info@extremeiceland.is
It doesn't matter if you want to experience the most known destinations in Iceland or if you are more excited to wonder around the roads less travelled:
Our fleet allows us to visit all the areas of Iceland, with style.
We can travel to those places which are impassable even for standard 4x4 jeeps. "Impassable" does not mean "impossible" anymore!
We can plan your whole trip, and let you only worry about enjoying your special tour.
That means we can take care of booking your accommodation, activities and really all the things that you wish for your travel.
We offer super jeep tours that grants you exclusive access to the off road destinations deep in the core of Iceland. Some locations have welcoming huts and even warm natural pools where you can bathe beneath the northern sky. Those are places like Landmannalaugar, Hveravellir and Strútslaug. We also offer mini bus tours that can take you and your travel companion to the classic highlights of Iceland's nature like the Golden Circle, Jokulsarlon Glacier Lagoon and Snaefellsnes Peninsula.
Our private tours can also be more activity ones. Going caving and glacier hiking in Iceland has become a really popular sport.
Our experts can take you on the best places for those kind of activity, and other kind too.
If you want to go ATV'ing, snowmobiling, hiking, horseback riding or something else you can think off, we can help you organize it.
Extreme Iceland guides enjoy sharing their knowledge of the Icelandic Sagas, nature and folktales making sure that our passengers experience a memorable, entertaining and informative tour. The tour ends when we drop you off in or near to Reykjavik, wherever you wish.
At Extreme Iceland we want to make sure that you enjoy your visit to the limit. You will not be on the clock trying to keep up with any schedule – you are on vacation!
Our aim is to organize your dream travel in Iceland and give you the chance to experience Iceland in a comfortable and flexible way.
Any questions? Contact us...