Taste of Everything
- EI116
Glacier Hike - South Coast - Lava Caving - Golden Circle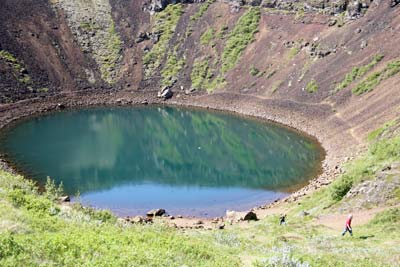 This three day tour is perfect if you want to see a little bit of everything. Caving, glacier hiking as well as visiting the famous Golden Circle, gets you a taste of the most popular things to do on the island.
Operated in a minibus
Small groups and personal service
Get offer
Age limit: 10 years
Duration:3 days
Pickup time: 09:00 - 09:30
Available: Sep - Apr
Max group size: 18 persons
Included: Reykjavik accommodation for 2 nights in a single, double or triple room, Reykjavik hotel pick up, 3 separate guided minibus tours.
Excluded: Food
Bring with you: Warm clothes, hiking shoes, packed lunch (we will also stop at a diner / restaurant).
Map of the route: See here below, or click here.
For further information:
cn@extremeiceland.is
Note: For all our combined tours it is necessary to arrive in Iceland at least one day before tour departure. You can book your extra night with us. We recommend booking airport transfer here. Keep in mind that each day trip ends in Reykjavík again, so you go on three separate tours, with three separate guides.
Day 1
We travel along the South coast of Iceland, stop at various locations including glacier hiking at Solheimajokull glacier which is a part of Myrdalsjokull glacier. On the way back we head to a staging point, where you can purchase refreshments before heading out again on the search for northern lights.
Read more
Pick up is from 9.00 – 9.30 at your Reykjavik accommodation. After that we drive east for an adventure day at the south coast. Our first stop is at Seljalandsfoss, a beautiful waterfall that sometimes is possible to walk behind, but watch out, that path can get very slippery! Next up is the glacier hike. Don't worry, we provide you with everything you'll need and it is a fairly easy hike, therefore suitable for most. After conquering the white ice we'll go the black sand beach, Reynisfjara, with beautiful basalt columns and the basalt sea stacks Reynisdrangar. It has been ranked as one of the ten most beautiful non-tropical beaches in the world. Here you have to be very careful as the waves are extremely powerful. On our way back to Reykjavik we'll stop at Skogafoss waterfall, one of the south coast highlights. According to a legend there is a Viking-treasure hidden behind the waterfall, you should ask your guide if you want to know more. In between we head to Ingolfsskáli a staging point for our Aurora Tours, here you will have time to boost up your energy with some refreshments before heading out again for the northern lights hunting. Like with all natural phenomena, you can't order the lights to turn on as you like. But with a little bit of luck and a little bit of clear sky our chances are quite good. Our guides are specially trained to read the forecasts and they will take you to some beautiful locations where the chances are the highest to catch them.
Day 2
Next up is a caving trip to Leiðarendi magma chamber. This trip is only about 4 hours so afterwards you can relax and enjoy downtown Reykjavik.
Read more
Pick up is at 9.00 – 9.30 at your Reykjavik location. Our destination is only a short drive from Reykjavik, at Reykjanes peninsula, so in about 20 minutes we'll arrive. Leiðarendi cave is about 900 metres long and was first mapped in 1992. We will enter through narrow cave entrances and find they open out to reveal an extraordinary scenery of lava formations and unexpected colours. The tour is suitable for most people but you will have to be able to walk on uneven surfaces and sometimes on all four.
Day 3
Last but not least we will go the circle no one can miss when in Iceland. The Golden Circle complete. The tour has many stops on the way and takes about 8 hours.
Read more
After pick up from 9.00 – 9.30 we'll go straight out of town where our first stop will be the Geothermal Exhibition at Hellisheidavirkjun, the largest power station of Iceland and the second largest geothermal power station in the world. The exhibition gives you insight into geothermal energy utilization in Iceland in a modern way via interactive multimedia installations, wall displays and presentations. Second stop will be the volcanic crater lake Kerið, a beautiful sight with water in it, that looks kind of like a peacock feather from air. It is on our way to the circle route. Next we warm up for Gullfoss at Faxi waterfall, a beautiful waterfall popular with white water kayakers. Up next is the breathtaking Gullfoss, so powerful that it really reminds us how small we humans are in comparison to the nature. We will have lunch at a local place close to Gullfoss and then move on to Geysir geothermal hot spring area. The famous Geysir will be there as well as the geyser Strokkur who erupts every 8 – 10 minutes. It's very impressive to see, the steaming water goes up around 18 – 30 metres (60 – 100 feet). Efstidalur is a charming litlle farm we'll visit next. There you can taste an amazing ice cream, produced straight from the cows living there. It is close to Laugarvatn lake and that will be our second last stop. Laugarvatn is a small town with 200 habitants, but what is interesting to see is the geothermal area the town is built on. Perhaps we will visit a geothermal bakery, where rye bread is dug only few centimeters out of the earth. Now we will be closing the circle with a visit to Thingvellir National Park. Thingvellir holds a great historical importance and the landscape is breathtaking. For instance the American and Eurasian tectonic plates meet here and the oldest parliamentary site in the world, Althingi, was formed at Thingvellir in 930 AD. The area has been designated UNESCO world heritage site. After this it is time to head back home to Reykjavik city, where we will arrive probably somewhere around 6 o'clock.
Read about important winter information
---
Aurora Bonus
If the Northern Lights don't show up on your tour you can contact our sales team: cn@extremeiceland.is and we will book you on the Magical Auroras tour, free of charge. Please remember to mention your booking number in the email.
Map - click to enlarge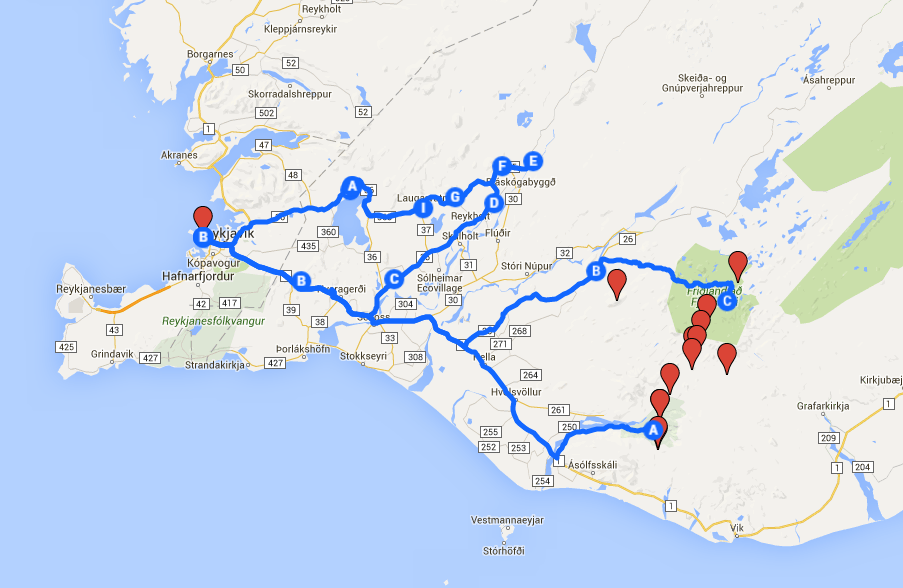 Recommended tours
The following tours are great in combination with this tour, if you have more days to spare:
Contact us about availability...