The Whole Enchilada
- EI117
South Coast, Golden Circle, Aurora Hunting and much more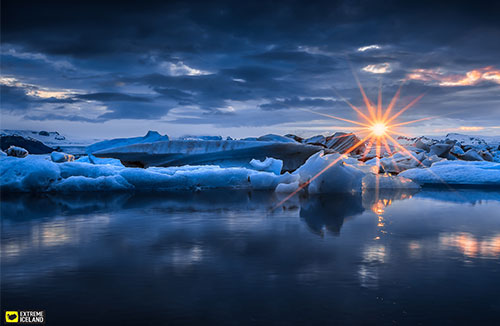 "Live life to the fullest, and focus on the positive". This tour will help you do just that. An adventurous combo package tour with 5 different tours in 4 days. See all the highlights in Iceland in only four days.
Operated in a minibus
Small groups and personal service
Get offer
Age Limit10 years
Duration:4 days
Pickup time: 09:00 - 09:30
Available: Nov - Mars
Max group size: 18 persons
Included: Reykjavik accommodation for 2 nights in a single, double or triple room, Reykjavik hotel pick up, country hotel accommodation for 1 night with breakfast, 5 separate guided minibus tours.
Excluded: Food except for breakfast on day 2
Bring with you: Warm clothes, hiking shoes, packed lunch (we will also stop at a diner / restaurant).
Map of the route: See here below, or click here.
For further information:
cn@extremeiceland.is
Note: For all our combined tours it is necessary to arrive in Iceland at least one day before tour departure as it is always early in the morning. The accommodation for this night in Reykjavik is not included in the package but you can book it with us. We recommend booking airport transfer here. Keep in mind that each day trip ends in Reykjavík again, so you go on five separate tours, with five separate guides.
Day 1 & 2
You will arrive at your accommodation in Reykjavik and the morning after we will start the travel spending the first 2 days traveling along the south coast visiting all the highlights at the area. The grand slam will of course be a visit to Vatnajokull glacier where we will go glacier hiking.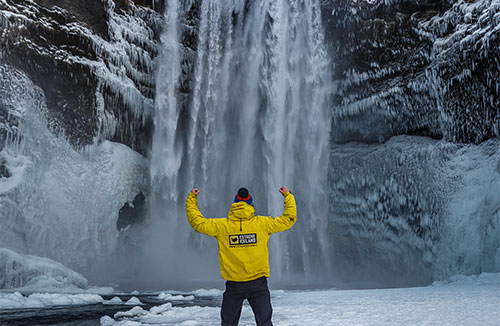 Read more
Pick up takes place in the city from 9 – 9.30. Afterwards we'll head on to the south coast where our first stop will be at Seljalandsfoss waterfall – a beautiful waterfall at the Eyjafjallajokull volcano area. Not far is another wonderful waterfall, Skogafoss which plunges from the cliffs that once formed the coastline. It's 60 metres high and definitely one of the most famous and talked about waterfalls we have in Iceland. From there we'll move on to Reynisfjara, and get a look at the black sand beach with the scintillating sea stacks Reynisdrangar.
After refreshments we'll pass a huge area of black lava, sand and ash, an area with remarkable geology features formed during a single eruption. We will next arrive at Skaftafell Nature Reserve – in the national park at Vatnajokull glacier, where we will observe the glacier lagoon before arriving at our accommodation for the night, a cute country hotel, around dinner time.
We have early rise on day 2, waking up in the country side, the stillness is amazing. Breakfast is included and after that we go out to see the Jokulsarlon glacier lagoon, now in bright daylight. There's a lot to see including icebergs of all shapes and seals of different sizes, but they're often relaxing in the lagoon.
After that we will access Svinafellsjokull glacier which is an outlet glacier from Vatnajokull in the Skaftafell area. It played a big part in the Interstellar movie. We'll put on crampons and go for a hike, where we will enjoy wonderful views all the way.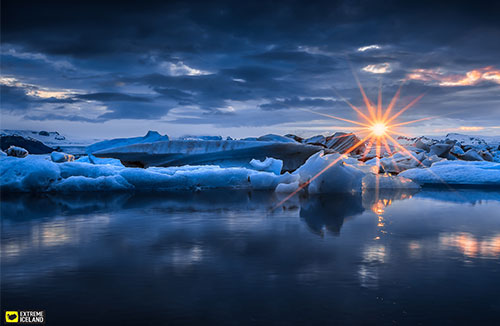 Our guides are specially trained for glacier hikes and will lead the group as well as help you pu your gear on, which Extreme Iceland provides. After glacier hiking we will return back to the city and estimated arrival time is somewhere between 19.00 – 21.00.
Day 3
On day 3 we'll go on two separate tours. First we will see an absolute classic, something no one can miss when in Iceland, the Golden Circle. Later, in the evening we will go for a northern lights hunting mission.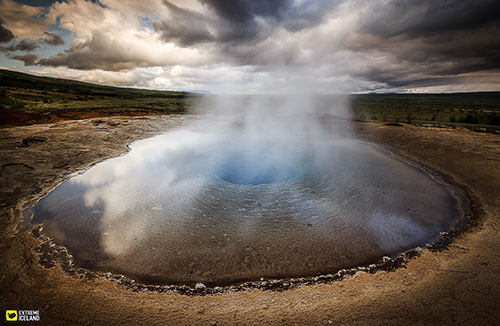 Read more
We start the day just after lunch time with the golden circle tour. Pick up is from 13.00 - 13.30. Our circle will be the Crater Kerið – Gullfoss Waterfall – Geysir Geothermal Area – Efstidalur - Thingvellir National Park. Gullfoss, Geysir and Thingvellir make up the Golden circle but the two other destinations are on the way and something we think would be interesting to see. The crater Kerið is beautiful at sight and has, for instance served as a concert stage, which is really cool. Efstidalur is a local farm, where you can get ice cream produced from the cows that live there. We will though spend most time exploring Geysir geothermal area, Gullfoss waterfall and Thingvellir National Park. This tour takes around 6 hours so you will be back in Reykjavik around dinner time (19.00). You will have about 2 hours to eat before you will be picked up again, for the norhtern lights hunting. At 21.00 – 21.30 there's another pick up for the Northern lights tour. We will go together in a minibus on a hunt. These dancing lights usually want to be caught in the dark and the best way to appreciate them in all its glory is away from the light pollution in Reykjavik. Our guide will read into the forecast and decide from that where he will be taking us. So, we never know where we'll end up, but prepare yourself to be hunting for around 4 hours and prepare yourself to be amazed by these beautiful yellow, green and sometimes red dancing rainbows of the night! Note that we can never guarantee that they will shine like a diamond, we can't turn them on whenever it suits us even though we would really love to.
Day 4
This day will be a combo day tour. In the morning we start with a caving trip not far from Reykjavik and afterwards we will go straight down to Reykjavik harbour where we will depart our whale watching tour on a boat.
Read more
Our first destination isn't far from Reykjavik, so we will arrive at the cave entrance shortly after pick up, which takes place from 9.00 – 9.30. The cave Leidarendi was discovered in 1992, located in a lava field in Reykjanes peninsula, between the town Hafnafjordur and Keflavik. To enter the cave we will have to go through the narrow entrance but it than opens out and becomes wide and spacious. The cave is though sometimes quite narrow and we may even have to climbe at some point. Therefore it is important to wear the right gear and we will of course provide you with that.
After caving we drive to Reykjavik harbour, downtown, where the people on the whale watching boat will welcome us. The whales we most commonly spot include minke whales, white-beaked dolphins, harbour porpoises and even the majestic humpback whales. The guides use their experience to help you to know where to look to locate the wildlife, describe what is seen and use their scientific knowledge to answer your questions. The crew will make sure that any birders on board will not miss the birds we encounter!
The tour will finish at around 16.00 and you can either enjoy the day from there or use our pick off service to your accommodation.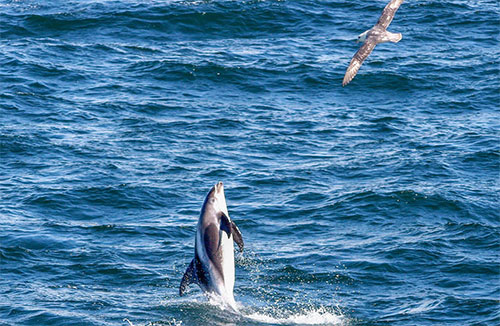 Read about important winter information
Map - click to enlarge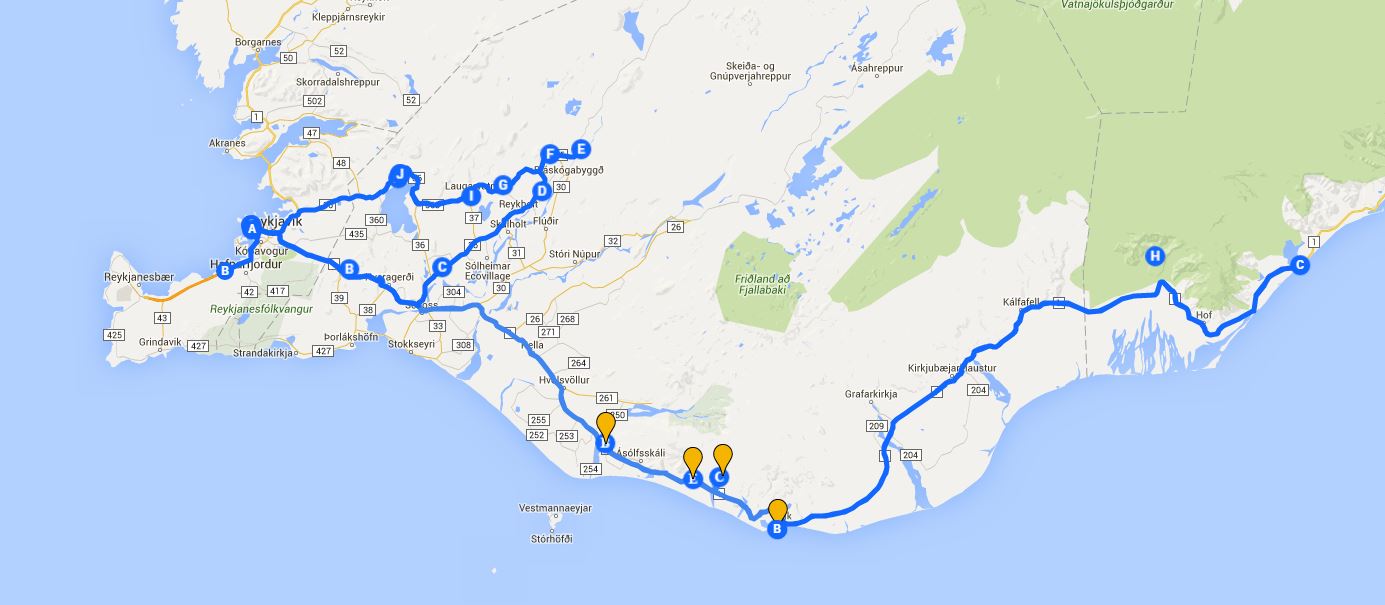 Recommended tours
The following tours are great in combination with this tour, if you have more days to spare: