Winter Spirit - Glaciers & Auroras
- EI118
Snaefellsnes - South coast & Glacier hike - Magical Auroras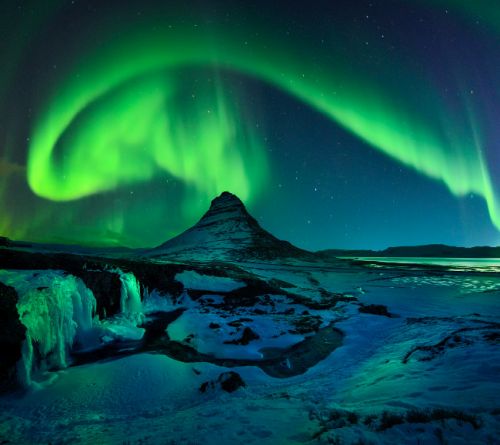 Iceland in winter time is a true spectacle. The nature takes on a completely different form, with its own peculiarities and distinct features. On the Winter Spirit combo tour, you get to experience some of the most amazing ones, like glaciers, lagoons, frosty lava fields and last but definitely not least, the northern lights.
Get offer
Age limit: 10 years
Duration: 3 days
Pickup time: 09:00 - 09:30
Available: Oct - Mar
Max group size: 18 persons
Included: Reykjavik hotel pick up, one night in Snaefellsnes accommodation, guided minibus tours, one night accomodation in Reykjavik, all relevant equipment.
Bring with you: Warm clothes, hiking shoes
Map of the route: See here below, or click here.
For further information:
cn@extremeiceland.is
Note: For all our combined tours it is necessary to arrive in Iceland at least one day before tour departure as it is always early in the morning. We recommend booking airport transfer here. Keep in mind that each day trip ends in Reykjavík again, so you go on five separate tours, with five separate guides.
Day 1-2: Snæfellsnes peninsula & northern lights
The first part of the trip is a two day sightseeing tour in a minibus to Snæfellsnes peninsula, where we will also go look for the northern lights. Snæfellsnes is a world filled with diverse natural features and is sometimes called "Iceland in a nutshell".
Read more
After we pick you up at your hotel we head out of the city towards the peninsula in west Iceland. We follow a scenic route, which offers many great photo opportunities, and make a quick stop for refreshments where you can buy food supplies for the day ahead. We will drive through Hvalfjörður (Whale Fjord), if the weather allows. We will drive over a mountain pass called Dragi, and into the valley of Skorradalur. There lies a pristine lake where, legend has it, a monster resides. We will also visit Deildartunguhver hot spring, which has the highest flow of any hot spring in Europe. The water has a temperature of about 97°c and the water flows from it at 180 litres per second.
The next stop on the tour is Reykholt, a small village in the valley Reykholtsdalur. One of the most significant persons in historic times lived there, Snorri Sturluson. Snorri was, among other things, the author of the famous Edda sagas.
Hraunfossar falls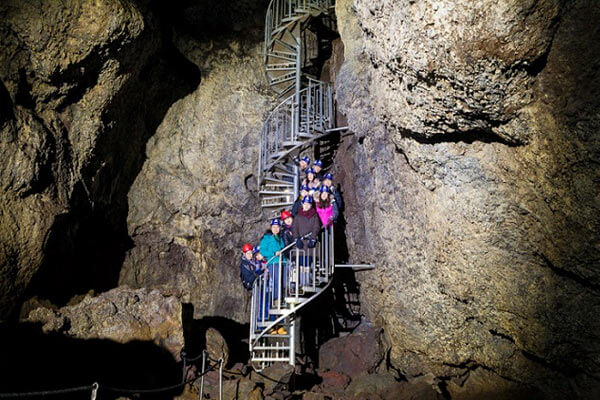 Hraunfossar is a series of waterfalls that are a short distance away from Reykholt. These beautiful waterfalls are the highlight of the day for many, and are a great photo opportunity. The falls span a distance of about 900 meters and pour into the river Hvítá from ledges formed by lava.
A few steps from Hraunfossar you can find another beautiful waterfall, Barnafoss (meaning "Waterfall of the children"). The name has a sad story behind it, it is believed that the name was given to the waterfall a long time ago, when two children drowned there after falling off a bridge that had been built there. It is said that the grief stricken mother had the bridge destroyed shortly after the terrible accident.
Our next stop is at the valley of Hnappadalur, where we will pass by the volcanic crater Eldborg. We will also take a look at Gerðuberg, a beautiful wall of basalt columns that form magnificent geometric patterns. We'll also stop by Raudamelsolkelda, a mineral spring.
At the end of the first day, we head to a local guesthouse on the south coast of the peninsula, where we will spend the night. There you can relax and maybe take a stroll to a beach that's nearby and see if you can spot any seals. From the guesthouse, you also have a great view of the glacier that sits on
Day 2
After breakfast we continue our journey around the peninsula. We start the day by driving to the ravine Raudafeldsgja, where a beautiful brook flows deep from within a huge crack in the mountain. We might be able to take a short hike into the murky depths, but that always depends on the weather conditions.
We drive to a ravine called Raudfeldsgja, a very beautiful brook flowing from deep within an enormous crack in the mountain wall which cleaves it all the way down to the root. We might take a short hike into the murky depths of the ravine, but in winter conditions it might prove to be too difficult.
Next we head to the small village of Arnarstapi, where on the beach sits a sculpture of Bardur Snaefallsas, a half-human half-ogre. Legend has it that after some dramatic events in his life, he vanished into the glacier of Snæfellsjokull. where we take a short stroll through the beautiful shoreline towards the small village of Hellnar, where we will have lunch.
Hellnar is a nice little village, where we will enjoy a hike, exploring the cliffs, seabirds and beautiful views. After a refreshing hike we might catch a cup of coffee at the smallest coffeeshop in Iceland, located at the Hellnar pier.
Black Beach Djúpalónssandur
Our next stop will be the black sand beaches of Djupalonssandur and Dritvik, where there were fishing operations many years ago. The debris of two shipwrecks from some decades ago is still scattered on the beach. These beaches are stunning and extremely interesting places to see with unusual cliff formations and black pebbles.
When we depart Djúpalónssandur beach we travel through stunning landscapes, towards the northern side of the peninsula. There we'll stop at Grundarfjörður, a small quaint fishing village. The village is surrounded by particularly beautiful mountains and is home to one of the peninsula's most iconic landmarks, Kirkjufell. Which is also probably one of the most photographed mountains in Iceland. This symmetrical mountain towers 463 m (1519 ft) up from the shoreline, its name translates to "church mount" and when looking at it, you can see why.
If we have time, we will take a short 30 minute hike along the coastline that connects the two beaches, to see the amazing scenery of the area.
Vatnshellir Lava Cave
One of the tour highlights is this easy cave exploration in the National Park of Snaefellsnes.
** There's no need to be in any particular physical condition to explore Cave Vatnshellir. Helmets, gloves and torches are provided to all travellers during this guided visit **
The lava cave has two main sections. The upper section has many great features and unique formations of lava statues that are curved on the sides of the lava tube. The lower part of the lava cave, which can be reached by a long and narrow staircase, takes us deep underground, into to a place which was hidden from the outside world for thousands of years. Vatnshellir was formed in an volcanic eruption that occurred about 7,000 years ago.
Visiting this beautiful cave offers a unique experience. The total darkness of the lava cave dampens every sens you have, expect smell, which becomes dominant. Deep underground, there is absolutely no sound to be heard.
After the caving tour we visit small fishing villages on the north side of the peninsula. First the long wave radio mast at Hellissandur is a 412 metre high radio mast for long wave transmissions, situated at Gufuskálar in the vicinity of Hellissandur plains. Interestingly, this mast was once the highest structure in Europe. We will make a quick stop here, mainly to look at some peculiar rock shelters that might very well be the oldest man-made structures in Iceland.
We continue onwards and on our way from Olafsvik we make a stop at a waterfall with the iconic mountain Kirkjufell in the backdrop, which is often said to be the most photographed mountain in Iceland. At the foot of the mountain is the peaceful little village of Grundarfjordur. We may buy some lunch pack there.
From Grundarfjordur we proceed through the small fjords of Hraunsfjordur and Kolgrafarfjordur and drive through Berserkjahraun lava field. We will hear interesting legends about the Swedish berserks that laid the road in exchange for the farmers daughter but paid with their life, betrayed by the man who hired them to work. We will then turn south and drive across the mountains at Vatnaleid and head for Reykjavik.
We estimate that we will be back to Reykjavik city between 19:00 - 21:00.
Winter Clothing to wear
Please take into account that the weather in Iceland changes rapidly and winters can be very cold. Therefore it is very important to dress accordingly.
Be sure to bring good hiking shoes and warm socks, a windproof and rainproof outer layer. Also bring a light and warm inner layer, such as wool, fleece or thermal.
Also remember balaclavas and winter gloves. Jeans and trainers are not suitable. If you do not have good hiking shoes you can rent them from us.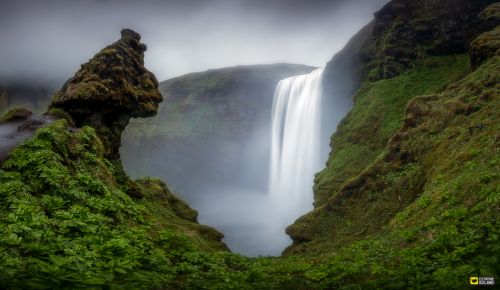 Day 3: Sensational Iceland - South Coast Tour with Glacier Hike & Auroras
The Sensational Iceland tour is a sightseeing day trip where we explore the magnificent south coast of Iceland. The road along the south coast is chock full of natural spectacles and hidden treasures that we'll show you. You also get the chance to do a glacier walk when we take a hike on Solheimajokull.
Read more
We depart from Reykjavik for a day packed with activity and beautiful scenery. So prepare yourself with warm clothes and good hiking shoes - and don't forget your camera!
Along the route we pass Hellisheidi geothermal power, where your guide will explain the many different ways Icelanders utilize clean energy.
Passing through the countryside gives you an opportunity to see Icelandic horses in the fields, as they spend a lot of time roaming during winter. You may even stop to take photos of these hardy little beasts, which are most of the time more than happy to pose for a photo or two.
Our first scheduled stop is at the beautiful Seljalandsfoss waterfall, unique because you can walk behind it, which is very popular for visitors to do.
Glacier Hiking & The South Coast
After the running water of Seljalandsfoss we make our way to Solheimajokull to embark on a glacier hike. We gear you up with everything you need to have a safe, fun journey on the glacier. We supply the crampons, harnesses, iceaxes and helmets. We also do a safety briefing before venturing on to the glacier.
We assist you with putting on the ice crampons, so you can walk more securely on the icy surface. It's important to have good hiking shoes, as the crampons can't be used with sneakers or other lighter shoes.
Sólheimajökull glacier is a part of Myrdalsjökull, Iceland's fourth largest glacier that covers the infamous volcano Katla. The one hour hike is fairly easy and should be suitable for all over the age of ten that are comfortable walking on uneven surfaces.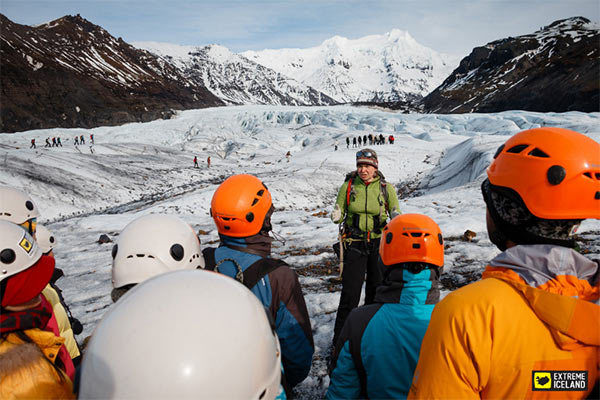 The glacier has a lot of crevasses, giant cracks formed in areas where the glacier flows more rapidly. These crevasses are the reason it's dangerous to walk on the ice without a guide, as they can sometimes become covered under snow.
After the glacier walk tour, we will finish the tour on a high note – the Magical Auroras tour, where we go out and look at the northern lights.
The black sand beach of Reynisfjara is where we head after the hiking. You should be aware of the powerful waves that can sweep you off your feet if you go too close, so it is very important to stay safe and don't go in the water. At the beach there are stunning basalt columns and vast black sandy beaches, with the majestic sea stacks of Reynisdrangar on the horizon.
Before dinner we stop at Skógafoss Waterfall. The water in the waterfall runs from the volcano Eyjafjallajökull. This majestic waterfall is one of the most visited sites in Iceland, and for a good reason, as it is a stunning sight. Legend says that a treasure is buried beneath the waterfall, but nobody can get at the treasure except someone who is born at Skogar farm and has been raised to the age of fourteen only on horsemilk and horsemeat never hearing God's name mentioned. So don't count on finding anything!
We now drive back to Reykjavik, where we will go to a switching point. There you can buy snacks and coffee, or eat a packed dinner. We then go on a separate minibus tour to search for the northern lights. We drive out of the city and go searching for the northern lights.
Magical Auroras - Searching for the northern lights
In the evening, we escape the light pollution of civilization and head out into the frozen, dark wilderness to look for the northern lights. Your tour guide will decide where we will head, based on where we will have the best chance of seeing the northern lights. He will take into account both the cloud cover forecast as well as the aurora forecast. We then travel to the destination and see if we can catch a glimpse of the magnificent light show.
While it's impossible to know for sure where the best conditions will be, we have a few destinations to choose from, which have proved to be excellent spots to see them. We might go to Thingvellir national park, Reykjanes peninsula in the south west or Borgarfjörður in west Iceland. All these places are relatively near Reykjavik, so we won't have to drive for a very long time.
What are the northern lights?
The northern lights are a natural phenomenon that occur because of special chemical reactions in the atmosphere. Gaseous particles collide with electrically charged molecules and atoms that are released from the sun's atmosphere and blown towards earth by solar winds. They can enter both the northern and southern hemispheres of earth, because of how weak the magnetic field is at the poles. This is the reason why we only see these lights close to the north pole or the antarctic, where they are called Aurora Australis.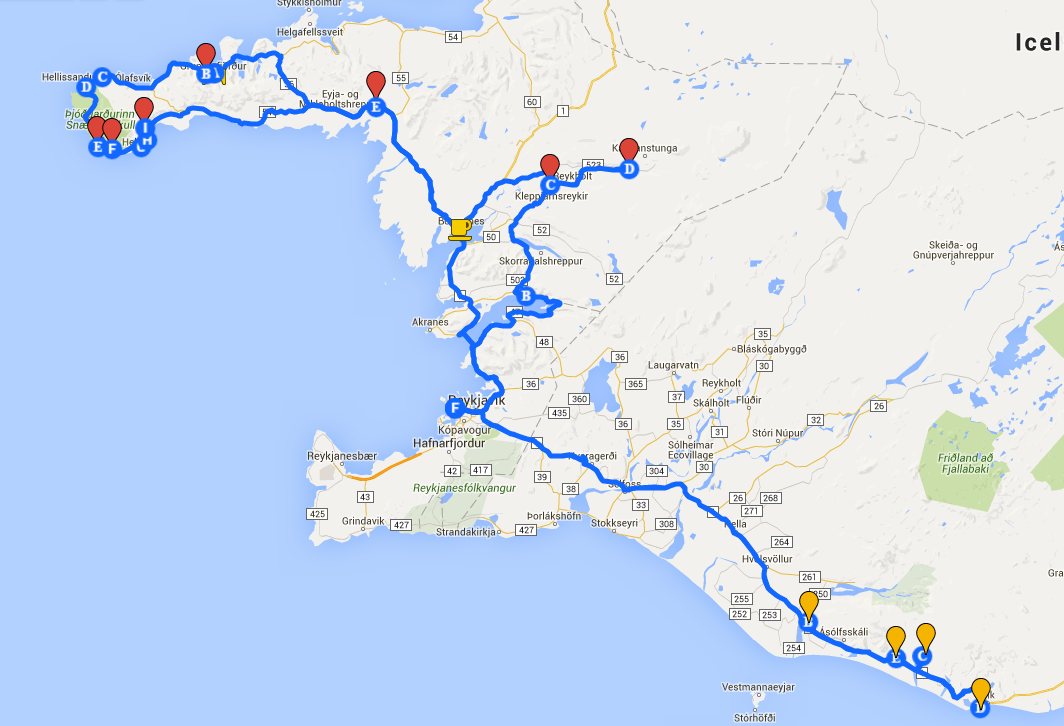 Read about important winter information
Recommended tours
The following tours are great in combination with this tour, if you have more days to spare:
Map - click to enlarge